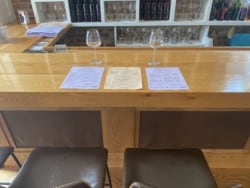 Prepare your empty tasting bar with 2 glasses, wine lists and food menu to help customers understand what to expect.
Hello, Welcome to Wide River Winery!
Would you like to taste some wine today? What type of wine do you prefer… more dry or sweet? Here's a sample of my favorite…
Pour just a ½ -1 oz sample in the glass sitting in front of them of your favorite dry or sweet wine. Get something in their glass.
There are a few options to enjoy…
Try 4 complimentary samples, and for $10 you can take home this Souvenir Wine Glass

Review the tasting sheet with the customer – dry/sweet, red/white, hand them pencils to pick out their 4 additional samples.

Select a bottle. Any wine you don't finish, we'll seal it up and you can take the rest home.
Purchase a glass of wine or slushie.
If you're hungry, our Small Plates menu has some very tasty options to pair with our wine.
If they select the Wine Tasting, sample white before red, dry before sweet.