Wide River Winery & Vineyard - Clinton, Iowa
Join us at the winery for Good Times and Great Wine.
This "wine cellar" is where the magic happens. You'll enjoy a stunning view of the Mississippi River while sipping on wine made just feet away from where you sit. In addition to wine by the glass or bottle, we offer delicious charcuterie platter and dips, wine slushies, and live music during the summer!  You can take a glass of wine through the vineyard and along the bluff trail as you explore our beautiful vineyard and learn about how grapes turn into wine. We are open daily from March – December, weather permitting.
Click Here to See the Wine List
Take a tour around our winery and vineyard!
Wide River Winery has a 12-acre vineyard producing both red and white cold weather grape varietals. We produce approximately 15,000 gallons of wine every year from both our vineyard and other growers. Take a tour of our estate and learn more about our family business. Find out what it's like to grow and process fruit, and ferment, age and bottle wine while you sip your glass.  Vineyard tours are weather dependent, offered April-October.  Hope to see you soon!
Request a tour today!
We'll contact you within 24 hours to confirm.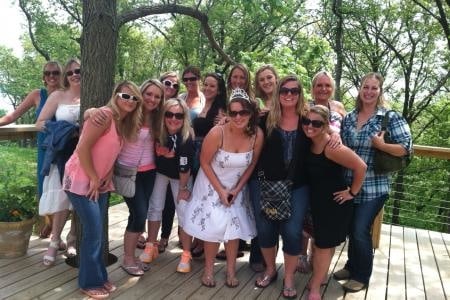 Book a Special Event
We provide 5-star wine tasting and food pairing experience while you enjoy your special event. The Clinton winery has a beautiful Terrace Deck with perfect views of the Mississippi River. We can accommodate up to 60 guests on the Terrace and have all kinds of clever ideas to make your event unique, whether it's a Bridal Shower, Bachelorette Party, Birthday, Rehearsal Dinner or Wedding.
Upcoming Events in Clinton

The River Lodge
The River Lodge next to the Wide River Winery in Clinton is a beautiful place to stay. This fully equipped and updated apartment with a view of the Mississippi River is the ideal accommodation, whether you're looking for a romantic getaway, a fun weekend with a friend, or a peaceful escape. Book today and make it your home away from home in the Clinton, Iowa, area!