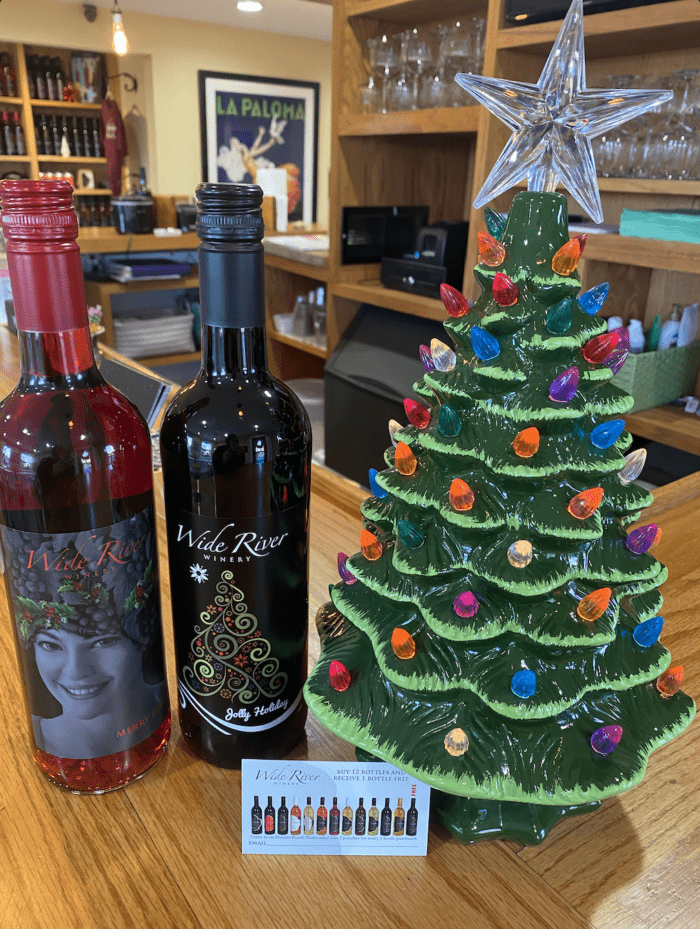 Merry Berry
Our first holiday wine is Merry Berry, a sweet and tart white wine infused with the holiday goodness of cranberries. We'll let you in on a little secret—it's just like the ever-popular Double Jeopardy, only with a festive holiday label.
As you may have guessed, Merry Berry's name comes from the burst of slightly sour, yet deliciously sweet flavor that comes from cranberries grown here in the Midwest. It's also created with Niagara grapes, a very popular grape known for its notes of lemon rind and almost candy-like scent.
Merry Berry (and Double Jeopardy!) is one of our most popular wines here at Wide River, due to its sweetness winning over just about everyone who tries it. Merry Berry is guaranteed to be a crowd pleaser at your next holiday party!
You can pick up a bottle of Merry Berry at any of our locations for $19, or order through our website here. Our wines are also available at many local grocery stores. You can view a list here.
Jolly Holiday
Another one of our festive holiday wines is Jolly Holiday. Jolly Holiday is a unique and very limited edition wine that's only available for a short time around the holidays. So if you're a fan, you should stock up!
Fans of our seasonal autumn wine Harvest Hurrah will be pleased to hear that our Jolly Holiday takes on very similar flavors. But, there's a twist.
While we use the same spices in both Harvest Hurrah and Jolly Holiday, Harvest Hurrah is made with semi-sweet white wine. Jolly Holiday, however, is created using a base of off-dry red wine with a flavor reminiscent of Caught Red Handed.
Those who have visited the Christkindlmart and loved the warm wine sold there will be pleased to hear that our Jolly Holiday contains similar flavors. This is because Jolly Holiday is inspired by Gluhwhein, the traditional mulled Christmas wine sold at the Christkindlmart. Gluhwein originates from Germany, but is popular during the winter holidays by many European countries.
According to Jimmy Groh, who works hard at bottling and processing in Clinton, the grapes in Jolly Holiday include Norton, Brianna, and Edelweiss. Edelweiss grapes are known for their notes of citrus, while Norton is known for being reminiscent of plums and cherries. These delicious notes are combined with a special blend of cinnamon, clove, nutmeg, and winter spice to create the perfect Christmas-y combination.
Bottles of Jolly Holiday can be purchased at any of our locations for $17, or bought online here. And remember, a list of the many retail locations our wines are sold can be found here.