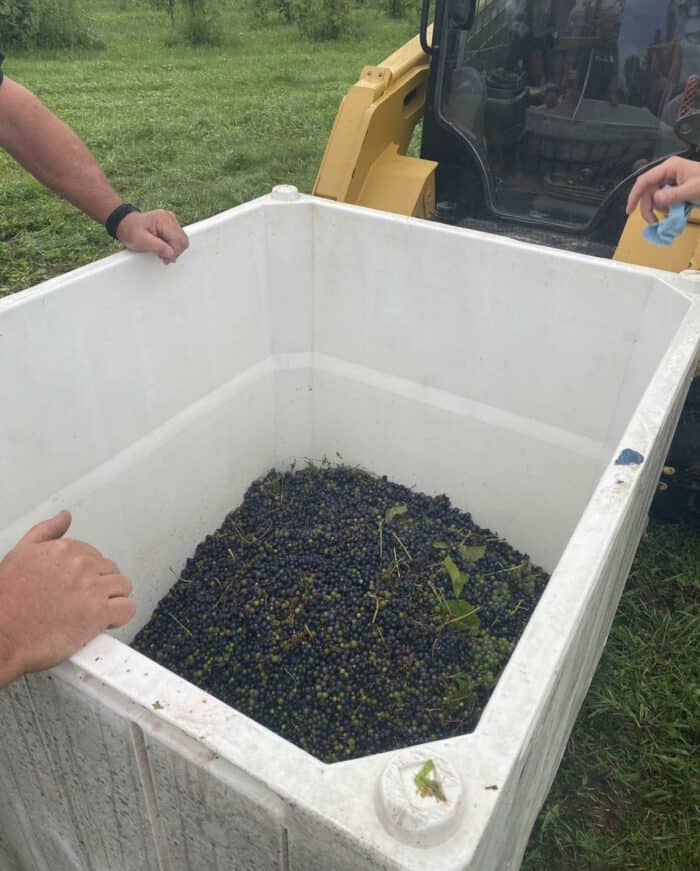 When many people think of American wineries, Iowa and its harsh winters may not be the first place that comes to mind. However, the Iowa wine industry has a long legacy that carries from the mid-1800s to the present day. Here at Wide River, we pride ourselves in the creation of homegrown wines, made using grapes we grow ourselves in the Iowa earth. The wines we create at Wide River primarily include eighteen different types of grapes—learn more about the history and flavor profile of each grape below. 
Grapes Grown Here in Clinton 
Frontenac Blanc
Frontenac Blanc is a rather new varietal of grape. The history of Frontenac grapes begins in 1996 at the University of Minnesota, though these grapes were noir grapes used in red wines. Frontenac Gris, which means gray, was then born in 2003. Frontenac Blanc, the whitest version of the varietal, was then introduced in 2012. As you may have guessed from its Minnesotan history, Frontenac Blanc grapes are well-suited for the cold climates of the Midwest and Canada. Like the other Blanc grapes we have explored, Frontenac Blanc grapes contain citrus and tropical fruity notes, distinctly different in flavor than other members of the Frontenac family. At Wide River, Frontenac Blanc can be found in the dry and fruity Ms. D'Meanor white.
St. Croix
St. Croix is one of the varietals we grow here in the Iowa earth, at our Clinton winery! This grape was born in the early 1980s in Wisconsin. It is most distinctly characterized by its purple color, large fruit, and sweet taste that makes it excellent for jams, jellies, and even eating fresh. This kind of grape is also known for being a very high maintenance vine to grow. Like many other grapes we use in our wines, the vines are also highly resistant to cold climates. At our winery, we utilize St. Croix in Redemption Rose and Blushing Testimony.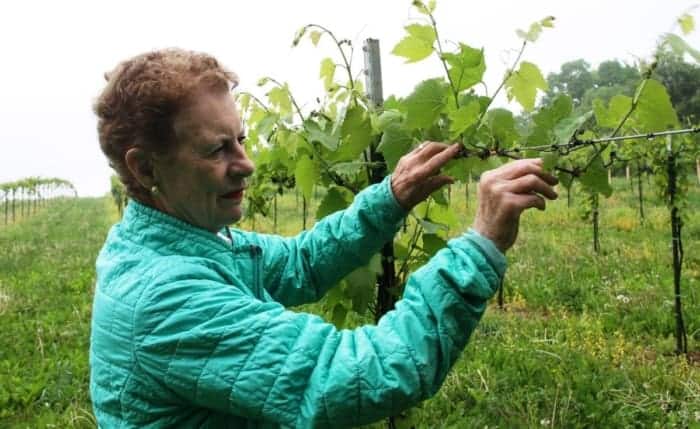 Frontenac Gris
You might remember Frontenac Gris from our exploration of the history of Frontenac Blanc. Frontenac Gris, which means gray, was created from a mutation of Frontenac Noir grapes in Minnesota in 2003. Like other members of its family, it is exceptionally resistant to cool weather. The fruit of the vine is gray, giving Frontenac Gris its name. However, the amber juice combined with the pigmentation of the skin gives wines a distinctly peach-pink color. Frontenac Gris is well balanced, making it ideal for usage in both dry and sweet wines. Like Frontenac Blanc, it has tropical and citrusy notes. At Wide River, Frontenac Gris can be found in Redemption Rose and Sweet Justice.
Brianna
Brianna grapes are another grape variety that is grown and harvested here at Wide River Winery. Like St. Croix, Brianna grapes were created relatively recently in the 1980s in Wisconsin and is especially hardy in cooler climates. Though Brianna grapes were originally created to be eaten fresh, it has made its way into a popular addition to wines created throughout the Midwestern US. This green colored grape is used in white wines, and can be dry or sweet. Rather than giving wines a dominant flavor, it often plays a supporting role. Here, Brianna can be found in Redemption Rose, Blushing Testimony, and Search, Seizure, and Sangria.
Edelweiss
Though Edelweiss is commonly known as a variety of flower found in the Alps, the variety of grape known as Edelweiss was actually created in Wisconsin in 1978 and then further cultivated by the University of Minnesota. Like Brianna grapes, Edelweiss grapes were created to be eaten fresh and then became an important cold weather grape for use in the production of white wines. Edelweiss grapes are green in color with white insides, and usually used in the production of semi-sweet to sweet wines. Like many of the other white, cold-weather grape varieties we have explored, Edelweiss grapes can contain hints of other fruits, like pineapple, peach, and citrus. At Wide River, we grow Edelweiss grapes in our Iowa vineyard, and use the fruit in Blushing Testimony, Redemption Rose, Harvest Hurrah, and Search, Seizure, and Sangria.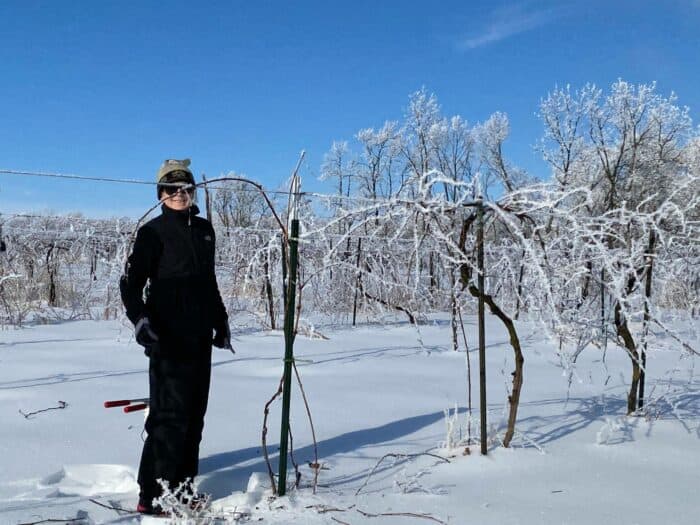 Verona
Verona grapes are used in the production of red wine, and the variety was created in Canada in the late 1990s. It can withstand cold temperatures and disease fairly well. This grape is also known for its versatility, as it can be utilized to create dry, sweet, or sparkling reds or a rose. It produces juice of a deep red hue, and the wine it creates often tastes of raspberry and even blackberry depending upon age. Verona grapes can even create notes of tobacco and chocolate. At Wide River, this varietal is another that we grow and harvest ourselves. Find Verona grapes in our dry Conviction or our sweeter, port-style Repeat Offender.
Louise Swenson
Last but not least, Louise Swenson is a brand-new addition to our vineyard! Though it was created in Wisconsin in 1980, this grape varietal is growing quickly in popularity in recent years. This rise in demand is in part due to the delicate and desirable aromas of flowers, honey, pears, and tangerines found in the white wines produced by this green grape. This varietal was planted at Wide River just last season, so it is not yet used in the production of any of our wines. However, the planting of Louise Swenson comes with a large expansion to our Clinton winery. Our owner, Dorothy O'Brien, says to expect brand-new wines created here in the future.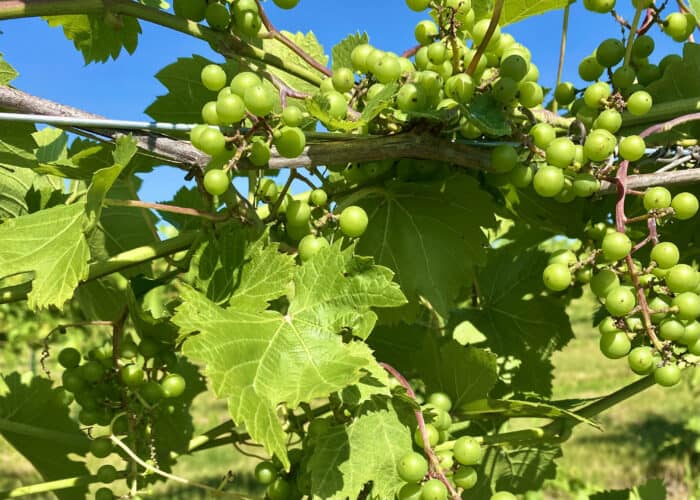 Other Grape Varietals
Vidal
Vidal grapes can also be referred to as Vidal Blanc grapes. As you may have guessed from the "blanc" in the title, they are a white varietal. Vidal grapes are a hybrid specifically designed and bred for cold weather, perfect for the harsh Midwestern winters found here in Iowa. This grape was created in the 1930s by a French winemaker for use in Cognac. However, due to its hardiness and ability to produce sugar in cold weather, it's grown very popular throughout Canada and the midwest. Vidal is most commonly utilized in dessert wines due to its sweetness and acidity. People say it can even produce notes of grapefruit and pineapple. Here at Wide River, you can find Vidal grapes in our pear and citrusy dry white, Ms. D'Meanor, giving this wine her distinct fruity notes. 
Seyval 
Seyval grapes, also known as Seyval Blanc grapes, share many similarities to Vidal grapes. They are both hybrid varietals used in the production of white wines, and are very suited for cooler climates. Also similarly to Vidal grapes, the Seyval varietal was originally created in France but grew very popular in other regions of the world. This varietal is most popular in England and on the East Coast of the United States; however, it is sometimes grown in regions of Canada. It is most characterized by its distinctly citrusy qualities. We use Seyval grapes alongside Vidal in Ms. D'Meanor White, lending the wine clear notes of lemon and citrus. Seyval grapes can also be found in our Redemption Rose, another white wine.
Catawba
This grape is mostly grown in the Northwestern areas of the United States, but it can also be found on the east coast in Pennsylvania. Catawba grapes were a part of the first wines to be successfully produced and sold in the US wine industry in the mid 1800s, though mildew destroyed many of the vines and reduced its popularity for some time. Its taste is described as similar to White Zinfandel, and these grapes are characterized by their distinctly musky odor, referred to as "foxy" in the wine business. It also has fruity, bright berry notes. Find it paired with watermelon in our delicious sweet white So Sue Me Sue. 
Riesling 
White Riesling grapes originated long ago along the Rhine river in countries like Sweden and Germany. It is used in the production of white whines both dry and sweet, and is one of the most grown grape varieties in the world. Due to its popularity and the many areas in which it is grown, the taste of Riesling grapes can vary quite a bit, taking on flavors of anything from apples to peaches to citrus fruits. It is grown all over the word, including Europe, Australia, China, Canada, Africa, and many places in the US. You can taste Riesling grapes alongside many others flavors in our Search, Seizure, and Sangria.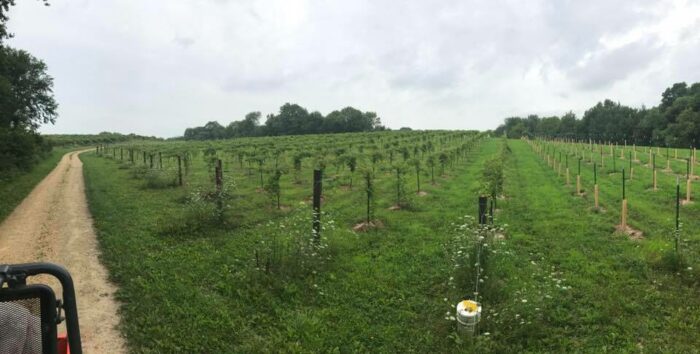 Petite Sirah
Sometimes known as Durif, this type of grape gets the "Petite" in its name from the small size of the grapes the vine produces. It is grown across the US, Israel, Australia, France, South America, Mexico, and California. It was created in the mid-1800s in France, though it fell out of favor in that region and instead grew popular in other parts of the world. Petit Sirah is most distinctly characterized by its dark color, as well as its spicy, jammy flavor reminiscent of plums; it is frequently used in the US and Israel to add body to wines created with other grapes. At Wide River, Petite Sirah grapes can be found in our dry Conviction. 
Tempranillo
Tempranillo is native to Spain, and it is used to create full-bodied red wines. The name comes from the Spanish word for "early" because it ripens much sooner than many other varietals of grapes. It is one of the top five most popular grapes in winemaking worldwide, though the vast majority of these vines are found in Spain. Tempranillo is known for is neutral taste, though it can sometimes contain hints of strawberry and plum. Tempranillo is often aged in oak barrels, to introduce the flavor of the barrels to the neutral taste of the wine. This is the case here at Wide River. We utilize Tempranillo in our dry red Cody Road Felony, aged in bourbon barrels from the Mississippi River Distilling Company.
Cabernet Sauvignon
Cabernet Sauvignon might be a grape you're familiar with already—it's the most widely planted wine grape variety in the world, and can be grown almost everywhere wine is made. This popularity is due in part to the ease of growth, and in part due to its tendency to "take over" areas where it is planted. Cabernet Sauvignon is used in the production of full bodied red wines. Like Riesling, another popular wine grape grown worldwide, the flavor profile of Cabernet Sauvignon can change depending on the many different regions where it is grown. It can contain anything from mint, olive, cherry, currant, bell pepper, and much, much more. At our winery, Cabernet Sauvignon is found in our dry reds Cody Road Felony and Felony Red. 
Petite Pearl
Petite Pearl is another relatively new US based variety of grape. Dark in color and producing a deep red juice, this variety was originally born in Minnesota in the late 1990s, but it was not widely released until many years later in 2010. It is highly resistant to disease and cold temperatures. Like Petite Sirah, Petite Pearl gets its name from the compactly-sized fruit it bears. Also similarly to Petite Sirah, Petite Pearl grapes are known for their spicy, jammy taste. However, this varietal is also characterized by a distinct earthy scent containing complex aromas including anise (often compared to black licorice), plums, almonds, currants, plums, and even mint. At our winery, Petite Pearl grapes are found in our Caught Red Handed.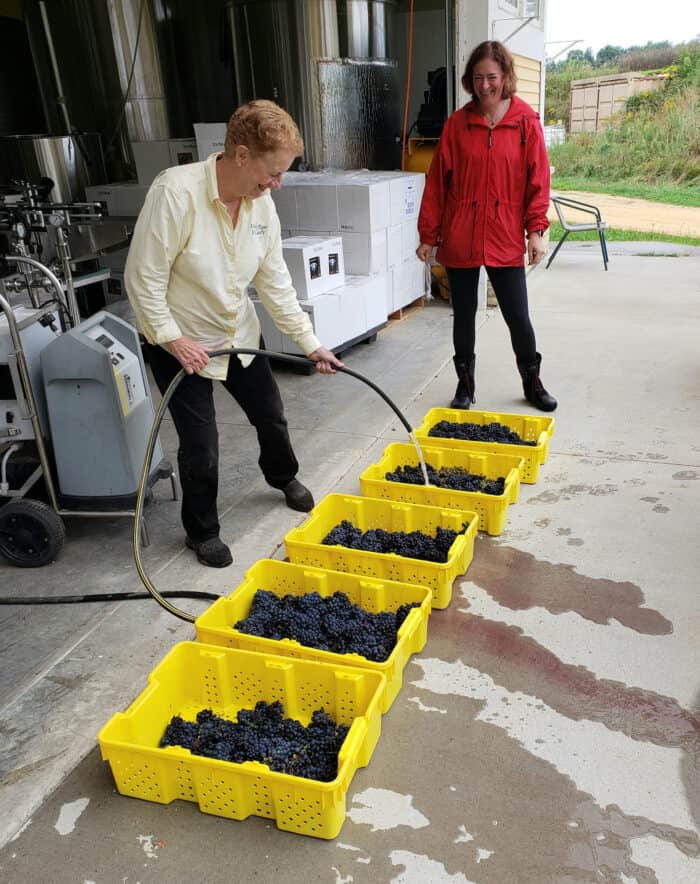 Niagara 
Niagara grapes are the most popular kind of grapes grown in the US. With green skin and white fruit, this grape is used in wine, jams, juices, and eaten fresh. This varietal originated and is found in many parts of North America, but it can also be grown in Brazil and New Zealand. However, due to its delicate nature, it cannot be shipped long distances. Niagara grapes are known for their sweetness, and have been described as containing a musky, or "foxy" scent, alongside lemon rind and more floral jasmine notes and an almost candy like scent. In our winery, we use Niagara in both sweet reds and sweet whites, including Double Jeopardy, Sweet Justice, Karen, Harvest Hurrah, and Not Guilty. 
Concord
The dark purple Concord grapes are a type of grape most are probably familiar with. Beyond winemaking, they are eaten fresh, and used in candy, jelly, jam, and even soda. This varietal is predominantly used in sweet wines, but creating dry wines with Concord grapes is possible. The name comes from Concord, Massachusetts, where the grape was originally born in the mid 1800s. Concord grapes are primarily grown on the US, especially near lakes, and can even be found in the wild. Like many other US-born grape varietals, Concord grapes have a distinctly "foxy," or musky, scent, though their flavor profile is generally considered to have a straightforward and simple grape taste. At Wide River, we utilize Concord grapes in the creation of some of our fruity reds, Sweet Justice and Karen.
Norton 
Like Concord grapes, Norton grapes were born on the East Coast of the US, specifically in Richmond, Virginia. This grape has a long history in the US wine industry, having been widely used since the early to mid 1800s. Norton grapes are different from many other American grapes in that they lack the "foxy," or musky, note. This often makes them desirable—the wine produced by Norton grapes was described as the "best red wine of all nations" at the 1873 Vienna World Fair! Norton grapes are characterized by fruity aromas, such as plum and cherry. At Wide River, these natural fruity flavors found in Norton grapes are enhanced with raspberry to create our ever-popular sweet red, Pursuit of Happiness.