If you like Wide River Winery wines, you will love our Wine Clubs.
We have two different club options to select from:
• Dry Wine Club •
The dry wine club features primarily dry and semi dry wines. It will also include occasional after dinner, fortified and seasonal wines. 3 bottles will be shipped (or picked up) quarterly. Average wine cost $45-65 per release.
• Sweet Wine Club •
The sweet wine club features semi sweet and sweet wines. It will also include some seasonal wines. 3 bottles will be shipped (or picked up) quarterly. Average wine cost $40-60 per release.
• Club Benefits •
No membership fees
Personalized Wine Club Membership ID cards
20% off on quarterly release of 3 wines (Ability to customize release with preferred wines)
Family recipe card with wine pairing suggestions in each release
Invitations to Wine Club exclusive events
Early access to new releases
15% off on stays at The River Lodge & The Wide River Inn
10% off on wine and food purchases in tasting rooms
10% off on workshop tickets
Reserve tables for Wide River Winery events
Special promotions exclusively for Wine Club members
Complimentary* Winery and Vineyard Tour once a year from May to October (Group of 4 or less)
*$20 per person value – gratuity not included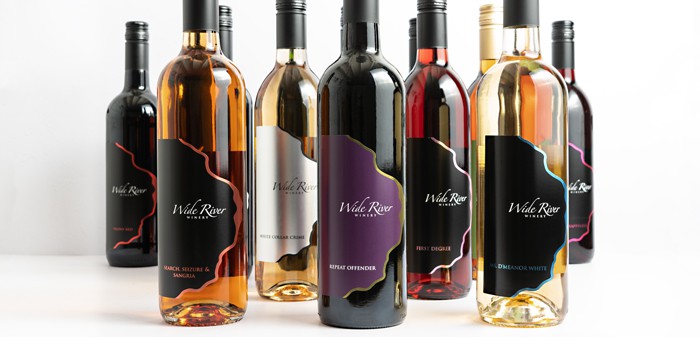 How it Works
Each quarterly release of 3 bottles will be automatically charged to the credit card on file, including shipping charges.
Quarterly wine selections are released the 1st week of March, June, September and December.
We will let you know via email about upcoming wine releases.
To preserve wine quality in transit, shipped orders will be held when temperatures exceed 80 degrees or fall below 20 degrees.
Wines may be shipped to AK, AZ, CO, DC, FL, GA, HI, IA, ID, IL, IN, KS, LA, MA, MD, ME, MN, MO, NC, ND, NE, NH, NM, NV, NY, OH, OR, PA, SC, TN, TX, VA, WA, WI, WV, WY and must be signed for by an adult 21 years of age or older.
If you've elected to pick up your wines from our Clinton winery, please do so within the month of the release. Wines held for two quarters may be shipped to the provided shipping address.
We reserve the right to make comparable substitutions if necessary.