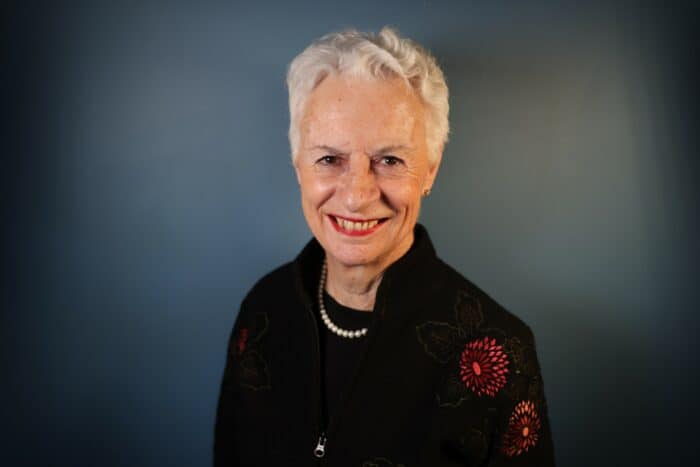 Dorothy O'Brien grew up in Winfield, Illinois, a rural area a little outside of Chicago. Growing up, Dorothy enjoyed the local 4H program, where she first began to foster a love of the outdoors which eventually led to growing things in the Iowa earth.
As she entered adulthood, Dorothy attended the University of Illinois for her undergraduate degree before pursuing law school at the University of Iowa.  Before becoming an attorney, though, she first worked as a news reporter. Dorothy met her husband, a Clinton County judge named Charlie Pelton, while on the job. She graduated from law school and received her license in 1984, and married Charlie soon after in 1985. Dorothy has remained a practicing attorney for the past thirty-eight years.
It wasn't until her thirties that Dorothy discovered a taste for wine. From there, she developed a strong interest in the wine making and growing. Then, in 1997, Dorothy began to read and research how to grow grapes and planted some of her own. Before she knew it, she was creating home-brewed wine in the basement for her and her family to enjoy. She and her family continued to learn about the winemaking process, attending classes and meetings with other Iowa winemakers covering topics like the best kind of yeast to use or best wine-making methods.
Soon, Dorothy's friends and associates within the Iowa wine community and beyond stopped asking if she was going to open a winery of her own—they started asking when she was going to open a winery of her own. Seeing the interest and excitement within her local community, Dorothy obtained her license in 2005 and Wide River Winery was officially born.
The business remained a small operation at first— Dorothy recalls that Wide River created only about 600 gallons of wine in their first year. Since then, Wide River Winery has grown exponentially, bottling over 19,000 gallons of wine this year and supplying over 100 retailers throughout Iowa and Illinois. This flourishing was made possible through the contributions of Dorothy's family.
Her sisters Martha and Ceil, her husband Charlie, and her daughter, Liz Quinn, all take on important roles on the business side of the winery. Martha serves as a dedicated sales manager and coach, teaching our tasting room staff how to give each customer a fun and memorable wine experience. Meanwhile, Ceil utilized her wealth of experience in the hospitality industry to ensure our food program and parties run smoothly, in addition to taking charge of our Inn and Lodge. Charlie manages the equipment Wide River needs to grow, harvest, and create. Finally, Dorothy's daughter and Director of Operations Liz Quinn makes everything happen.
Though she owns a flourishing small business, Dorothy continues to be a practicing attorney to this day. When not hard at work between Wide River and her law career, she can be found cooking, tending to flowers in her greenhouse, or enjoying the outdoors. In the warmer months, you can see some of the beautiful blossoms she grows decorating our tasting rooms.
As for her own wine preferences, Dorothy especially enjoys dry reds, especially Wide River's Felony Red. Though, she also likes to occasionally enjoy a rare sweet treat of Not Guilty or afternoon sip of Ms. D'Meanor White.
Currently, Dorothy has her sights set on some exciting improvements to Wide River. Right now, she's exploring advancing the barrel aging program for dry red wines through the utilization of humidifiers and other improvements. She's also excited about the potential of a temporary winter enclosure on the Clinton deck. This enclosure would open the possibility for some winter seeding. Finally, Wide River recently underwent an exciting expansion of the Clinton facility, and planted a grape called Louise Swenson. Dorothy says that Louise Swenson has a nice flavor reminiscent of Sauvignon Blanc, and will likely end up in our Ms. D'Meanor White once it comes to fruition.