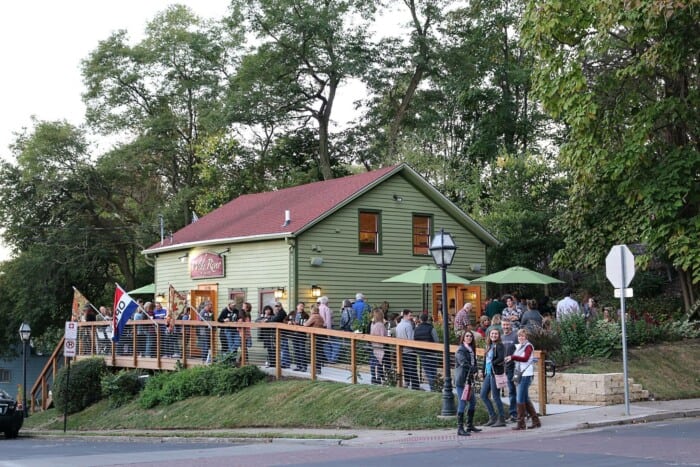 In addition to our winery in Clinton and our tasting room in LeClaire, we have a tasting room in Davenport as well! This location is even located in the historic Peter Lampe House, which was built around 1856. If you'd like to visit our Davenport tasting room, there are lots of other fun attractions in the area for you to check out. 
The first, and most famous, attraction in Davenport is the Figge Art Museum. Some of the Figge's current main attractions include "Peace, Power, and Prestige: Metal Arts in Africa" and "The Warner Foundation Collection: History in the Painting." There's also many other collections featuring art from countries around the world. And for wine fans, the Figge hosts monthly "Wine and Art" classes complete with appetizers. It's also an affordable attraction with admission to the museum at only $10 per adult, and less for seniors, children, and students. Admission is even free to all on Thursdays from 5-9pm!
Another excellent place to visit in Davenport is Vanderveer Botanical Park. This is the perfect place to take a stroll on a date, as a family, with friends, or even by yourself! Enjoy the company of ducks in the pond before you view the many beautiful flowers, plants, trees, and shrubbery across the 33 acres for the park. Like the building in which Wide River resides, Vanderveer is also a piece of Quad Cities history. It was first established all the way back in 1885! The park also hosts seasonal exhibits, such as the autumnal Chrysanthemum Festival or winter Poinsettia Lights Display. Best of all, admission to the park is free. 
Next stop on your trip can be the Putnam Museum & Science Center. Current featured exhibits at the Putnam include ones centering on Anne Frank, Pollination, and Mother Nature. However, there are many other exhibits at the museum covering subjects like science, history, and the natural world. The Putnam also screens many educational films, some of which are even in 3D! There's also a museum store so you can commemorate your visit with some souvenirs. Admission to the Putnam is only $9 for most adults, with more inexpensive rates for children, seniors, military, and those with EBT cards. 
Fourth, you can visit the Freight House Farmer's Market in Davenport near the LeClaire Park Bandshell and Modern Woodmen Park. It was created with the goal of connecting local small businesses to the community that surrounds them. The farmer's market features many goods from a variety of local vendors. If you've been looking for a fun weekend hobby, you can even volunteer at the Freight House Farmer's Market! 
Finally, you can visit the Rhythm City Casino for some fun. You may have caught a glimpse of the beautiful rainbow lights of this casino while driving on the highway before. In addition to the typical cards, slot machines, and other activities you can find at a casino, Rhythm City also offers sports betting. There's also a hotel and a variety of dining available on site. Plus, there's even a spa included within Rhythm City! Finally, the casino also offers live entertainment to its patrons, ranging from live music to comedy to boxing. 
As you've learned, there's plenty to do in and around Davenport beyond visiting our Wide River tasting room. Here, we offer more than just wine, small bites, and tastings. We also host fun events like Paint n Sip classes, holiday brunches, and live music on select Saturdays during the warmer months. So what are you waiting for? Come visit Davenport today!