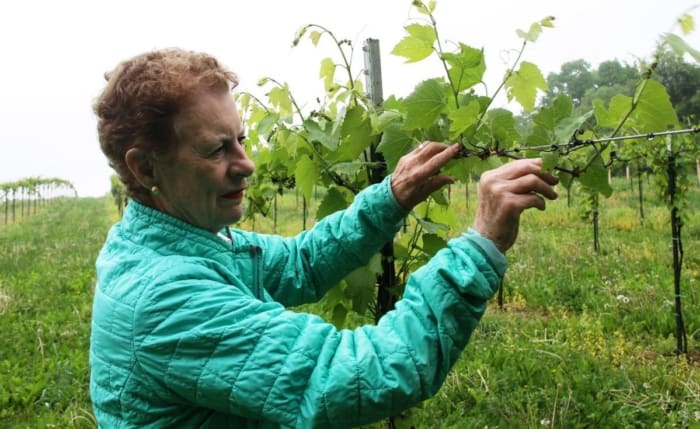 Wide River grows 10 acres of grapevines specially suited for our Midwest climate.  You might not be familiar with the names of these vines, but they are among our favorites fo reproducing our signature wines.   We grow about 1.5 acres of Brianna and use it in semi sweet and sweet white wines such as
Jury Duty
and Harvest Hurrah'.  It has big juicy berries and is a pretty hardy plant.
Petite Pearl is another favorite and makes a dry red wine.  Tom Plocher from Hugo Mn, brought us Petite Pearl.  Our theory is that if it can survive those Minnesota winters, our cold temps will be child's play.   We have an acre of Crimson Pearl, another of Tom's discoveries, which is expected to start producing in 2020.  These grapes will likely be a part of Caught Red Handed and Smooth Operator.
Frontenac Blanc is another cold hardy white wine grape.  Frontenac Blanc was discovered by the University of Minnesota, which originally developed the red Frontenac grape we all know.  The white version is considered a "sport," which the plant spontaneously produced.  Frontenac Blanc makes a peachy, fruity white that can range from off dry to sweet. Our
Ms. D'Meanor White
wine is a Frontenac Blanc blend.