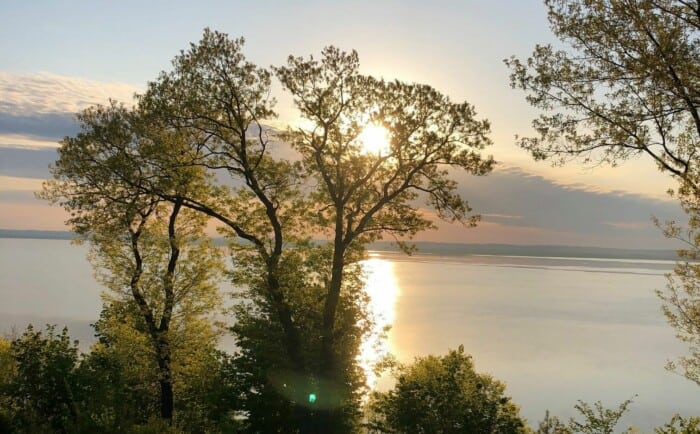 Thinking of taking a trip to Clinton, Iowa? Or are you looking for other activities in the area to do when you visit our winery? Though Clinton may not be the largest city in Iowa, there's plenty of fun activities to try while you're here— not to mention the beautiful scenery! Many of the activities the city offers are extremely affordable, too. A trip to Clinton makes for a perfect low-budget day trip. 
Our winery is ranked #2 on TripAdvisor's best things to do in Clinton, Iowa and is one of the city's most popular attractions. At Wide River, you can sip your choice of a variety of local Iowa wines while sitting on our deck and looking over the beautiful Mississippi River. We currently offer about sixteen varieties of both dry and sweet wines, and if you can't decide on just one, we also offer wine flights to our customers. If you're hungry, we also offer a number of delicious small bites, including a Charcuterie Board. Beyond just wine and food, we offer tours of our scenic winery—all you need to do is call ahead. Finally, Wide River Winery also offers entertainment—we host live music on select Sundays in the warmer months. 
While you're in Clinton, you can also stop by Eagle Point Park. This beautiful park is over 200 acres in size, and boasts attractions like a dog park, gorgeous lodge, basketball, disc golf, volleyball, and playgrounds. Not to mention the gorgeous views of the Mississippi River and long, winding roads filled with foliage. But perhaps the most exciting attraction is a Stone Tower dating all the way back to 1937—climb some stairs and feel like you're in a fairy tale inside the tower! 
Did you know Clinton used to be one of the lumber capitals of the world? Another popular attraction in Clinton, Iowa is The Sawmill Museum, where you can learn all about the lumber history in this city. The museum's attractions and exhibits include old blueprints, vintage equipment from Struve Mill and an old-fashioned single-blade sawmill. There's also a water table that demonstrates the journey of lumber from Wisconsin forests to Clinton's sawmills, and animatronic lumberjacks that can teach you lots and lots of educational Iowa history. Last, but certainly not least, The Sawmill Museum contains a simulator that re-creates the experience of floating down a river on a log raft. This attraction is very affordable, with visits for those 13 and older costing just $6, and children under 3 get in free. 
While you're in Clinton, you can also do some antique shopping if you stop by Tom & Audrey's Antique and Collectible Mall, which is filled to the brim with interesting retro and vintage items of all kinds and from all sorts of eras. Tom and Audrey's is known for its size, with the store boasting 7,500 square feet of sales space on the first floor and 10,000 feet on the second floor. According to Tom and Audrey's Antique and Collectible Mall's Facebook page, their merchandise includes "furniture, lamps, dishes, glassware, collectibles, one-of-a-kind items, outdoor items, tools, records, and all kinds of books," and the store gets in new items every day. Reviews highlight the antique store's reasonable prices and friendly staff.
To end your day, you could stop by a show at the Clinton Area Showboat Theatre, also known as CAST. This is one of just three professional union theatre companies in the entire state of Iowa. It serves over 10,000 audience members each year. The company prides itself on bringing talent from all over the country to create art that uplifts the value and history of Clinton, Iowa. The Clinton Area Showboat Theatre also helps provide a bridge between those who are involved youth programs and adult professional theatre through their Deckhand Program. Not to mention the unique style of the theatre, which is a literal showboat! Reviews speak highly of the exceptional quality of performances at the Clinton Area Showboat Theatre, along with their affordable prices. 
There's a lot to do in Clinton, Iowa—maybe more than meets the eye! If you're planning on paying Wide River Winery a visit, don't forget to call ahead for a tour of our scenic winery, or check our events schedule for live entertainment so you can make your trip extra special. And while you're in the area, check out these other great local attractions. The city of Clinton offers some affordable hidden gems for any kind of traveler—solo, couples, families, or friends!